Remember awhile back when I posted a picture of one little, lone
tomato
? Well, he was the beginning of my adventures in organic gardening but a lot has happened since then! The garden has really started to take shape and I've had a lot of success. That one little tomato turned into lots and LOTS of tomatoes. My cup runneth over...with tomatoes.
As you can see, these are my Tomato Children and there are many of them! The big, green guy in the front, I like to call him Morty. I know I am sounding ridiculous right now, which is my intention, but it's funny the attachment that you get to something when you watch it grow and mature slowly before your eyes each day. Oh, Motherhood!!
Anywho, enough silliness. I am currently enrolled in a Jazz class and we have been doing a lot of talking about the history of Jazz the last two weeks. All this talk of jazz, the South, and New Orleans has really inspired me. Inspired me not to take up jazz or even listen to jazz, but rather... to make JAMBALAYA! So, that's exactly what I did. I used some Zatarains® and a few of the tomatoes I had laying around (literally) and had it for dinner tonight. I thought I would share this very, very humble recipe.
WARNING: THIS RECIPE IS NOT VEGETARIAN!
JAMBALAYA
1 box of Zatarains® Jambalaya Mix
4 medium organic tomatoes, diced
4 stalks organic celery, chopped
1/2 organic white onion, chopped
1 lean pork sausage link, sliced into 1/4 inch slivers
1 tsp. crushed red pepper
Salt and pepper
A little extra Creole seasoning (optional)
This recipe is so easy that one of my Tomato Children could do it!
1. Cook sausage slices in a pan on low heat. When one side gets nice and cooked to your liking, flip. Once sausage is finished, remove from heat.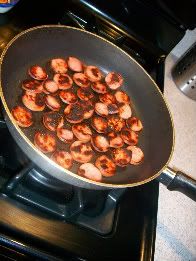 2. Chop and dice all veggies and set aside.
3. Follow the instructions on the Zatarains® box, which will instruct you to let the water boil and then dump in the contents of the rice packet. From there, add veggies so they will cook down, sausage and sausage juice from pan (for flavor).
4. Let the goodies start to boil again, then stir, turn to low heat, and cover with a lid. Stir occasionally, then about 25 minutes later.. WAM-BAM you've got JAMBALAYA!
5. Stir the rice to stop it from sticking to the bottom. Add in the extra spices if you feel you need them, let sit another 5 minutes, fluff again, and then EAT! Eating experience may also be greatly improved if done while listening to jazz music ;)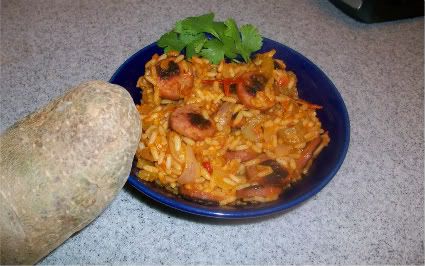 TA-DA!!
Sorry about the photo. I tried to get a good one but the lighting was off and the only one I even remotely liked was this one.. with the potato making a guest appearance. Oh well. A little more silliness never hurt anyone. Also, let me know if in the picture you see THE FACE...
I know this recipe is definitely not "from scratch" like I like my recipes to be, but sometimes you're just too damn tired to not get a little help from Zatarains®. I post this mostly because I really enjoyed this humble meal that was brought on by a little inspiration. My only hope is that you will see this and think, "Okay, I don't want to make that but that does make me want to make my great recipe for....". Whatever that recipe may be, let yourself be inspired, and if you are, feel free to pass your recipe along to me so that I can be inspired by you in return.