I decided, as one of my many efforts to live green, that I would do a little shopping at a local thrift store. I was looking for a bundt pan since I don't have one and I've been dying to make coffee cake! I'm always so tempted by the coffee cake at Starbucks®, but it's a total, un-organic rip-off. Home-made coffee cake always tastes better and it has the added benefit of leaving your house with an amazing cinnamon-y smell while it bakes. Yum!
Anywho, as I was perusing the aisles I got really excited. Shopping at thrift stores is like going on a treasure hunt; you never know what might turn up! It definitely makes up that metal detector that I always wanted, from TV infomercials, as a kid that my mom would never buy for me!
While shopping, I managed to find a really cute, PINK, aluminum bundt pan for only $1.49! Whatta' steal! I had to grab it. I could not have been happier with my new pan (well, new to ME!) and the used copy of
To Kill A Mockinbird
that I got for only a quarter. Being green has definitely been an adventure that has ultimately kept my wallet fat.
Finally, a post about cookin' it up!! Tonight, I made coffee cake as good as Starbucks®, if not better! It was cheaper, that's for sure. Take that, STARBUCKS®!! Here is the recipe in case you want to give it a try :) Make it at home and make it as organic as you can! Your tummy and your heart will feel better afterwards!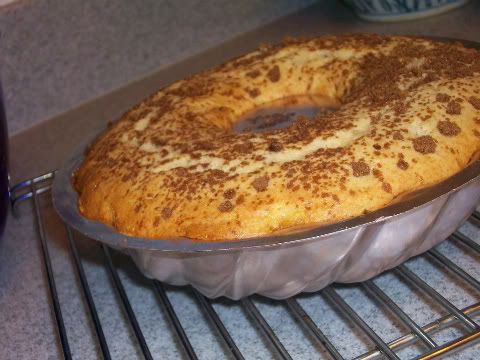 Cinnamon-Swirl Bundt Coffee Cake
Ingredients:
1 1/8 c. sour cream
3/4 c. butter
1 ½ c. sugar
2 ½ c. organic flour
1 tsp. baking powder
1 tsp. baking soda
1 tsp. vanilla extract
3 eggs
1 tb. cinnamon
1/4 c. brown sugar
chopped organic pecans or walnuts (optional)
1. Preheat oven to 350°. Combine the cinnamon and brown sugar in a bowl. Lightly grease the bunt pan (preferably with butter, since PAM® sprays are bad for the environment…) and dust the pan with the a small amount of the cinnamon-sugar mixture.
2. Cream the butter and sugar together in a bowl. Add the eggs, one at time, while mixing and then add vanilla. Combine flour, baking powder, and baking soda in a medium bowl.
3. Add the sour cream and the flour mixture alternately to the butter/sugar mixture. You should begin with the flour mixture and alternate, ending with the flour mixture.
4. Pour half of the batter into your greased bundt pan. Sprinkle the remaining cinnamon-sugar mixture generously on top of the batter. Add more cinnamon-sugar if necessary. Cover the cinnamon-sugar layer with the remaining cake batter.
5. Bake at 350° for 40-50 minutes. For a moist cake, be sure not to over-bake your cake. Check it often using a toothpick.
6. Add pecans or walnuts to the top of the cake once it is finished if desired. You may also add nuts to the inner cinnamon-sugar mixture if you like. Bon Appetit!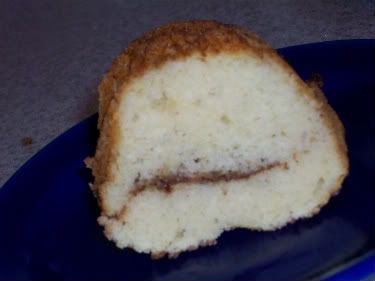 Ta-da! All done and still warm